---
Memorial Arches - I
| | | |
| --- | --- | --- |
| | Memorial Archways for Widows | B |
Memorial Archways are an outcome of Chinese feudal society. Each arch is related to a person or an event. Each arch has its own story. With profound connotations, the arches bring one's meditation to the past. Also, the arches represent the wisdom and artistry of ancient craftsman.
Memorial Archways for widows. The widow would be rewarded a memorial arch if she would remain chaste.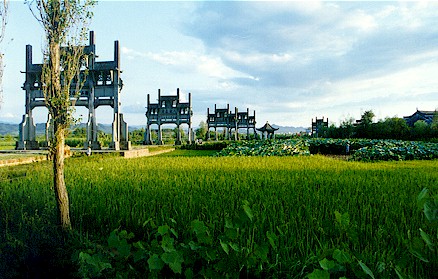 TangYue Memorial Arches Complex is located was located in Shexian, Anhui Province. The seven arches were built successively during the Ming and Qing Dynasties. They represent different styles of the architecture during this two dynasties. They are charcterized by the artistry of Huizhou.
There are two "Chastity Arches" in honor of Bao Wen Lin's wife and Bao Wen Yuan's wife. It is historical evidence of limitations and restrictions on the role of women in Chinese ancient society.

---